We are a part of your community.
Below is a list of events, activities and seminars that we are involved in.
October 2021 Events
Bel Air Grand Re-Opening
Oct 6, 2021 04:00 PM to Oct 6, 2021 07:00 PM
SAVE THE DATE!
Wednesday, October 6th, 2021 from 4pm until 7pm.
Bel Air McComas location
50 West Broadway
Bel Air, Md 21014
Please mark your calendars to join us at family-owned McComas Funeral Home and Memorial Center in downtown Bel Air to celebrate our new look as we continue to celebrate life in Harford County. Food and drink, music and information will all be out for your enjoyment. More details to follow.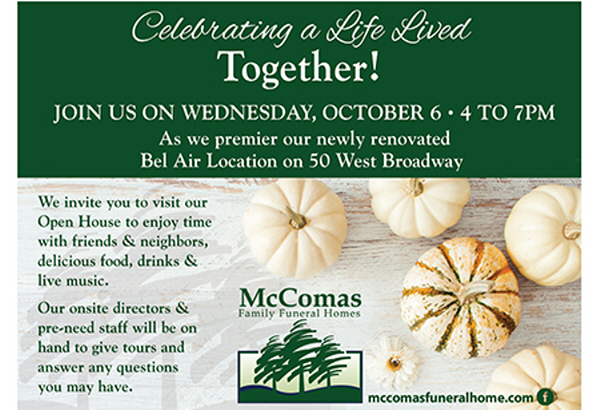 Our Ongoing Offer - Free tours of our newest Jarrettsville Facility
Please come out to explore our newest, state-of-the-art facility in the heart of Jarrettsville. With gracious, safe spaces and newly installed air-scrubbers, our Celebration of Life Center stands ready to host your funeral, memorial service, or other private events. We offer catering services as well and can safely do so in our modern dining room, complemented by outdoor patio seating. Call or text 443-686-2336 to set up a time that is convenient for you.